Ever since the release of Windows XP,  windows customization and modding have experienced an ever-growing community of windows theme modders and skinners but unfortunately, the last two windows released (Windows 8-10) were not really modding friendly. luckily some software were developed to substitute windows theme modding and the best of them currently available and with the highest user base is Rainmeter.
Rainmeter has tons of skins all over the internet which where created by a vast number of creators, The reason for this is because it is extremely versatile and has tons of utilities which range from system monitoring, audio visualization, audio player skins, time and date, wifi status, various launchers and docks, news feeds, etc just to name a few.
Unfortunately, this makes it really difficult to find the best Rainmeter skins that are worth your time but no worries because this is where we come to help you out by compiling this list of our top 20 best Rainmeter skins of 2019. This list is based on our preference and on the vote of our users so without further ado here is our top 20 Rainmeter skins of 2019.
Note: To use any of this skins, you need to have Rainmeter software installed on your windows PC.
If you love nature and all its beauties and at the same time are a fan of the sci-fi genre, then glass shards Rainmeter skin is the perfect suite for your desktop. Glass shards is a blend of various hi-tech fractured/cracked glass display in different landscape thus appealing to both minimal and extreme customizers alike. It is one of the most unique Rainmeter skins you will find online, it displays an array of functions such as audio visualization, weather forecast, system monitoring, the time and the date, battery usage, useful windows short cuts and many more. You will never have a boring desktop once you have it running and you will be surprised by how often you will keep staring at your desktop. Download below.
We most likely will all agree that minimalistic designs make our desktop look fresh and clean. Titillium is one of the most elegant minimalistic rainmeter skins we were able to lay our eyes upon, it matches well with a vast number of wallpapers than always matches well with the windows 10 theme style. Titilium rainmeter skin will display your system resources, current weather, some quick lunch shortcuts, the time and the date and it includes a rather simple yet impressive audio visualizer. click the download button below to get it.
On our third spot of the best rainmeter skins is sticky bar. It is needless to say why this bar skin matches so well with lots of gorgeous wallpapers and you can see a couple of examples from our previews above. If you like the simple theme style, then you can't go wrong with this one. It will provide functionalities such as power control buttons, time/date, some useful link short-cuts, CPU, RAM, and HDD usage, and the current weather. Grab it now from the download link below.
It was tough for us to not rate this one in our number one spot of best rainmeter skins, Neon space is the most visually stunning Rainmeter skin in our list, It comes with a multitude of glowing skins and super cool animated skins that will keep you staring at your windows desktop for hours. it also includes awesome glowing audio visualizer skins and some really cool audio players that support Spotify and lots of other media players. Neon space rainmeter suite contains pretty much all the skin types that you can imagine. Ranging from system monitoring, time/date, system temperature monitoring, lots of launchers, wifi status, notes/quotes, and a calendar just to name a few. if you are into tech, space, giant battleships and the science fiction genre in general, then you will absolutely love this skin guaranteed.
We are not sure what makes NXT-OS so special, probably its Mac-os feel combined with an elegant minimalist design, NXT-OS rainmeter skin has incredible smooth animations and a smooth and clean feel to it. it is one of the most modern design Rainmeter skins you can download. It comes with skins such as a calculator skin, a nice visualizer, system monitoring, docks and launchers, notes and reminder, screen lock and an audio player skin to name a few. this one is definitely a germ for all minimalist lovers.
Text clock Rainmeter skin is another very unique skin, it is the simplest one in this list. This one is actually just a time skin but it displays the time as a text using a modern font. Text clock alone on your wallpaper will transform the whole feel of it. We highly recommend it to anyone who likes things the basic way and to minimalists.
It's needless to explain why rusa jantan suite made it to this list as you can see from the preview above, the elegance is just mind-blowing. rusa janten is probably the neatest Rainmerer theme in this list. It comes with a nice and modern looking circular clock, a vertical sidebar which is a launcher, an audio player, some docks and a picture slideshow. If you like having a clean and neat desktop, then you will definitely enjoy rusa jantan suite. download it now from the link below.
Whether you are an Alice madness returns video game fan or not, you can't deny the fact that Alice reworked rainmeter skin is a masterpiece. The fine details in this skin and the way they blend so well with the wallpaper is just genius. Its design style is that of the steampunk genre and it's a throwback to the Bioshock Infinite universe. If you are into gears, steam pumps or the retro genre in general then you are gonna enjoy Alice reworked rainmeter suite. It comes with skins such as a clock, system monitoring, network activity, an audio player some docks and launchers and many more.
If you are not into flashy desktops and prefer darker skins and themes, then consider installing midnight mount rainmeter skin. Midnight mount suite is an elegant blend between a futuristic rainmeter skin layout and lots of dark wallpapers you can find throughout the internet as can be seen on the preview above. Midnight mount comes with a horizontal gray bar that displays some utilities such as the time and date, a search bar, windows special folders shortcuts, an audio player, some famous quote lines and a weather skin. download it now from the link below.
Although fountain of colors Rainmeter visualizer is not a suite like the other skins in this list, we can't ignore its impact as a Rainmeter skin. Fountain of colors is currently the most used Rainmeter visualizer out there and the reason for that is quite understandable given its extremely customizability and ease of integration with almost any wallpaper. The colors, bar length, orientation, and many more features can be tweaked to your liking. if you would like a bar visualizer for your desktop then this is the one to go with.
Named after the German music record enigma. This skin has a mysterious feel to it and it is one of the most famous Rainmeter skins out there. Enigma Rainmeter skin is a graceful skin for anyone who likes the style of the default illustro skins. It comes with skins such as a sidebar and a taskbar that contains the calendar, clock, music player, various system resource monitors, feed reader, weather and a lot more. Enigma rainmeter is for everyone who likes to have a neat and functional layout. Download it from the download button below.
Cold rainmeter skin is a perfect example of the amazing ability of some rainmeter skin to perfectly blend into a wallpaper. cold rainmeter is a 3d rainmeter theme which contains skins that are well integrated with a beautiful refill station in Johannesburg South Africa. The light glares and mist give a chill filing to it. Cold includes time & date skin, a media player and a simple weather skin. download it from the link below.
Have you ever wished to find a Rainmeter skin which would be the perfect match for windows default style? If yes then July flat'ish Rainmeter skin is what you have been looking for. It stays true to the fresh and modern feel of windows 8-10. july flat'ish contains skins such as a notepad, photo slide show viewer, time and date, recycle bin, system monitoring and many more. download from below.
Do you love the iron man movie series and ever wanted to have his user interface on your desktop? if so, Tech-A rainmeter skin is your go-to theme. This one has been out for a while and if you have used rainmeter in the past, you most likely might have come across it somewhere. It features a futuristic hi-tech circular hub which has a wide number of useful functions next to making your desktop popping. Tech-a has functionalities such as an audio player, weather forecast, shortcuts and useful links, a vast range of different system monitors. This skin is for all techies out there. Download it now below.
One important aspect of windows vista and 7 was their glossy effect which was and is still one of the best windows visual style. You can now bring that back to your desktop using the glasses rainmeter skin. The glasses suite skins all have a transparent glossy background on which you will find widgets such as a clock skin, recycle bin, a weather skin, notes and feed reader, system and network monitoring a slide show viewer and much more. Glasses rainmeter skin is one of the classic and best rainmeter skins out there. Download it now from the link below.
Yet another Rainmeter skin which is a perfect blend of rainmeter skins and an awesome wallpaper, wisp is a true work of art. Wisp rainmeter will totally transform your desktop and will leave anyone who sets eyes on it with questions about how you got it. Wisp features a woody background with tiles on which some rainmeter skins are laid out, they include a weather skin, time and date, network status, system resources monitoring, e-mail notifications and the CPU and GPU temperatures. Download link below.2
If you did pay attention to the monitors used in the Avengers airship ( Helicarrier ) in the Avengers first movie, then you notice this skin looks exactly like those OS. Avengers rainmeter skin is a fan favorite skin for not just the Avengers fans but to all marvel universe fans and to sci-fi lovers in general. Avengers rainmeter comes in three colors, orange, blue, and red. Each will display two launchers (one vertical and the other horizontal), an audio player, the time and date, volume control and system monitors. download link below.
The Dieselpunk genre might not be as popular as the steampunk genre, but we have to admit that it sure looks damn good with its steel bars and retro gauges. Dieselpunk rainmeter skin is one of the best retro-style rainmeter theme available to download. it will come with skins that display the earthquake locations, system, and wifi monitoring, an impressive weather gauge skin, an audio player and visualizer. Download from below, you will be amazed, it definitely deserves its spot in the Top rainmeter skins to download.
Nexa Rainmeter skin is a productivity-oriented skin that is similar to the default (illustro) rainmeter skin. If you just want the functionalities off rainmeter and not the styling aspect then you will be happy with Nexa. It features two background styles. a gray and a white version. Nexa will display skins such as the wifi status, tons of system monitors, a now playing skin, disk usage, volume control and more. Download it below.
Are you a minimalist with a thing for the freezing north? if yes, then Sidebar 1.0 is for you. Sidebar rainmeter skin features a vertical left bar with a simple but pretty design. it will display the ram and CPU usage, two disk usage and it also contains some windows special folders shortcuts. It also comes with a circular cool looking time clock. sidebar rainmeter is one of the more modern looking skins in this list of best rainmeter skins and will match very well with lots of wallpapers and is a perfect fit for Windows 10.
You can download new skins from this site, we keep updating our skin base with all new skins worth your attention. so don't forget to book mask rainmeterui.com and follow us on social media for updates.
Ever since its release, Rainmeter always had a dedicated group of developers constantly improving it and adding new features with every new release. we are very excited to see what the future holds for rainmeter and its community. You can follow their work at forum.rainmeter.
Rainmeter also have a great community on Reddit, check them out reddit.rainmeter
Creating a list of top, new, and best Rainmeter skins, Rainmeter themes, and Rainmeter Visualizer assests is one of the toughest things to do, but after searching web sources, forums, and the deviant art repository, I'm able to present this list to help users who are desperately looking for themes and skins to customize their Windows desktop. Looking specifically for system monitor skins?  Check out The 5 Best Rainmeter System Monitor Skins.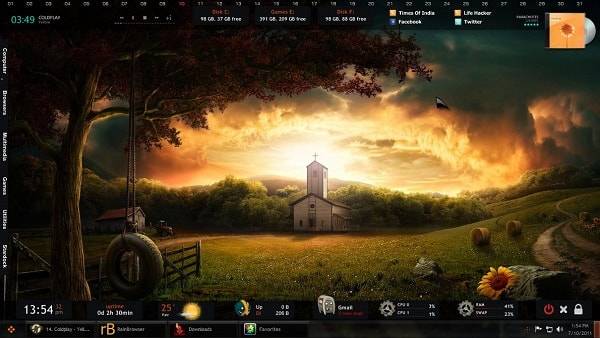 Rainmeter is one out of the best desktop customization tools available on the web that gives life and an attractive look to your desktop. With over thousands of themes and Rainmeter skins, you can style your desktop the way you want. It's not just about giving a new look to your desktop, but also helps you to provide a productive environment. Rainmeter displays different customizable skins including battery power, memory, RSS feeds, weather forecast, and lots more. This helps users to keep track of system health, the weather outside, taking notes, tracking the latest news, and a lot more right on your desktop.
Some useful articles:

10 Sites to Download Retina Display 2880×1800 Wallpaper for Macbook Pro40 Google Material Design Wallpapers
Day by day these Rainmeter skins and themes are getting smarter, and credit for this goes to the team working for Rainmeter. Now after reading all this, one thing which hits the mind is, where to get themes and skins for Rainmeter? Actually, there are lots of sources available over the web to download best Rainmeter desktop skins and themes including Deviantart, Rain meter forums or simply search Google for places to grab some cool and awesome skins and themes according to your taste.
In case you want to know about more desktop customization software's like Rainmeter, then check out my this article on best desktop customization softwares.
How to Install Rainmeter Skins and Themes
Installing the Rainmeter software is very simple. Follow these steps:
Download the Rainmeter software here.
Follow the instructions to install it on your computer.
Download any of the themes from the list below, and you'll be all set!
Best Rainmeter Skins and Themes for Windows 10
In case you're a lazy creature and don't want to go through these sites, then you can also check this list of some of the new and best Rainmeter skins and desktop themes of 2017.
1. TECH-A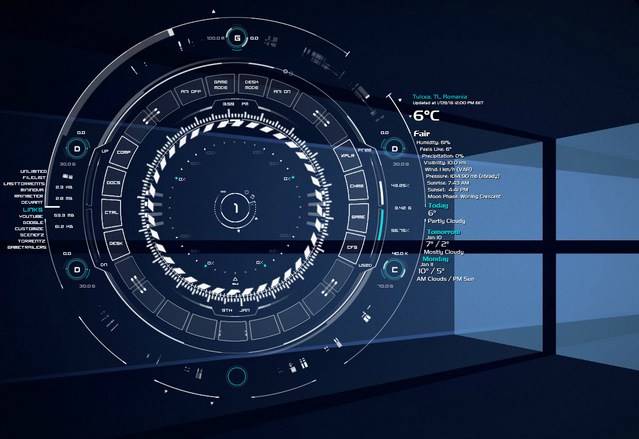 This is a futuristic rain meter theme with the windows logo in the background. It is not only stylish but highly functional too.  Displaying information on CPU usage, time and date and a handful of useful shortcuts. Download it.
2. Senja Suite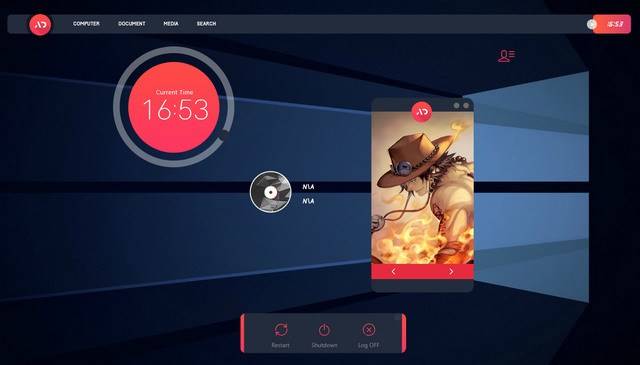 If you are a fan of One piece the anime TV series, you will love this one. It features a nice image of Fire Fist Ace and of course you are more than able to swap out this slideshow image with whatever you deem fit. Download it.
3. ALIENS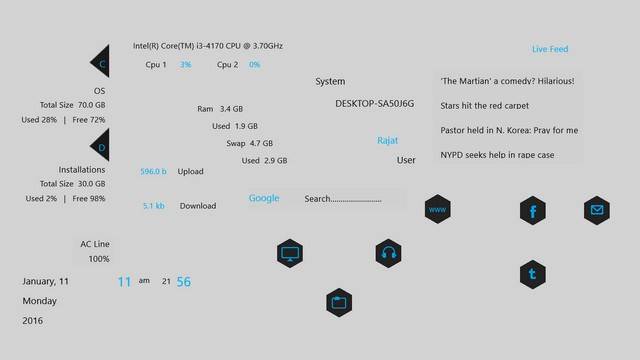 This theme is a bit more clutter than what I personally like, but it displays a few useful information like upload and download speed and a glance. Fast access to shortcut folders, time and date and much more. Download it.
4. Neon Space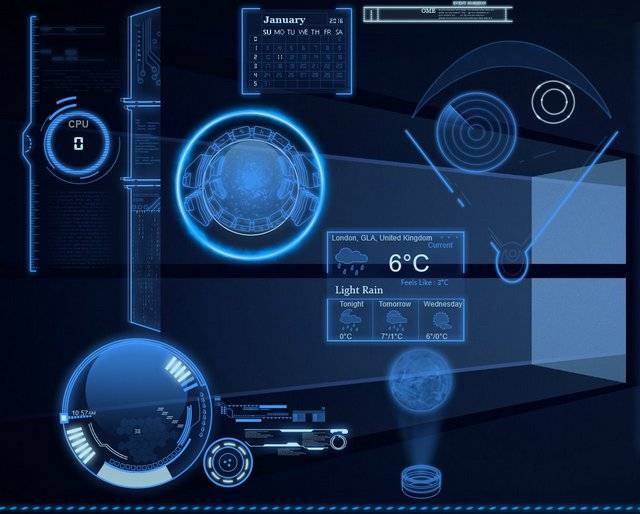 Get ready to blast off into space with this skin. It comes with a nice hologram effect of a planet, solar system, calendar, CPU usage and more. Download it.
5. Newspaper Desktop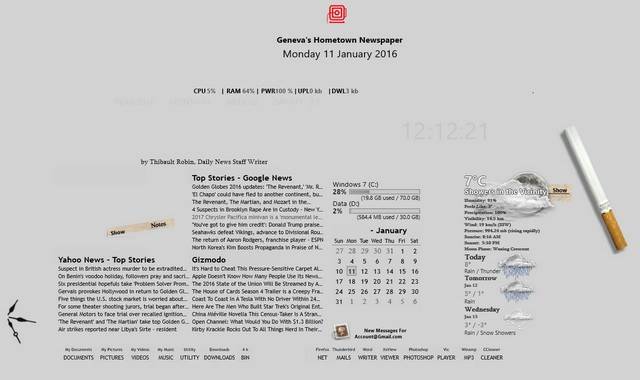 If you enjoy reading the newspaper daily, then this is an interesting one to consider. As the name suggests, it's a newspaper layout with displays the latest news from your favorite site. It as other useful utilities like Ram usage, time and date.
6. Windows 9 Single Mark 4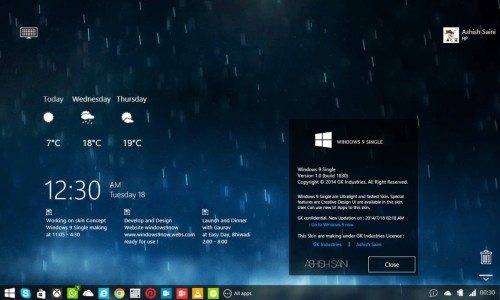 Windows 9 Single is counted as one of the best Rainmeter skin out of other Rainmeter skins available. This one is totally based on Windows concept which will make your desktop look amazing. Download it.
7. Windows 2019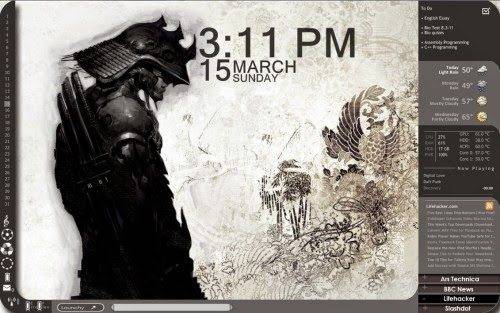 Windows 2019 is inspired by Microsoft Research video which shows how Windows interface might look like in 2019. The skin features informational bars and squares which make this concept that will give killer interface to desktop. Download it.
8. Darkness Fall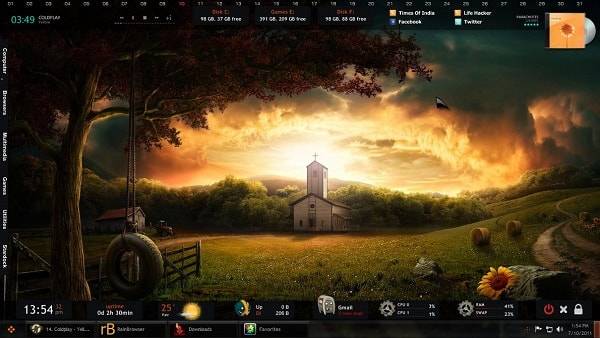 Darkness fall is amazing Rainmeter theme developed for Windows 7 featuring amazing landscape which adds beauty to your desktop. To make this awesome skin developer used different popular apps. Download it.
9. Pog Pack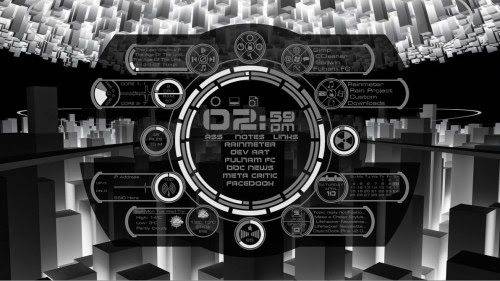 Pog Pack is just a refined skin of developers own rainmeter suite i.e. Cosmetal suite which is very easy to customize. This skin has 10 variables that you can change to control the look of the skins. Download it.
10. Adian Bolon Aero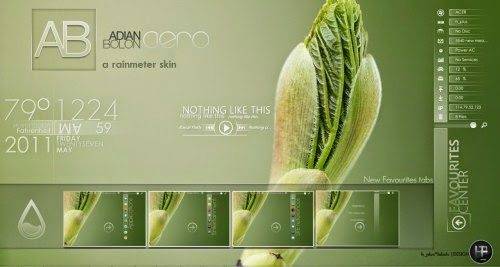 Adian Bolon Aero is another good rainmeter skin that helps you to customize screen. This skin can be used to launch your favorite apps, view local time, and control your multimedia player. Download it.
11. Taboo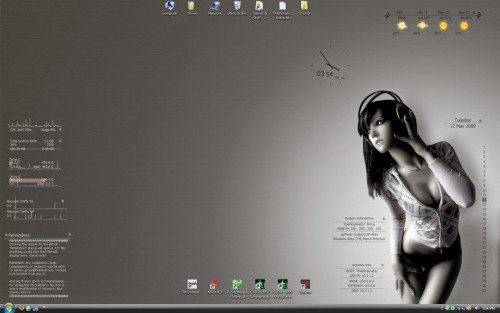 If you're are searching Rainmeter skins in the black and white background then you can go for taboo. It also has additional skin package out of which each of them is independent of dynamic placement. Download it.
12. My Rainmeter Desktop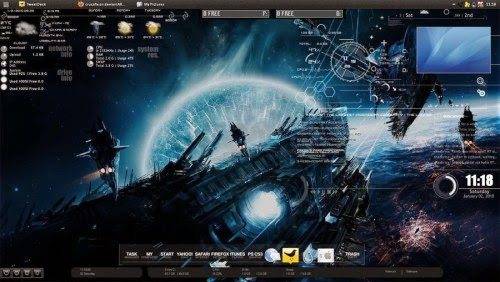 My Rainmeter desktop is another Rainmeter suite that will decorate your desktop. It is specialized with space war wallpaper by Alexxrafael.This skin is featured with circle clock, circle HDD, circle network etc. Download it.
13. Space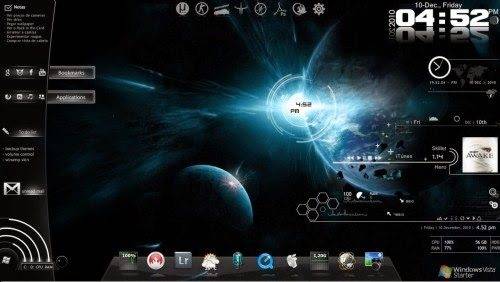 This is an awesome Rainmeter skin; here you can choose colors of your choice. This includes several features like 3 cool audio visualizers, easy setup, 8 new skins, all skins updated, less ram usage and much more. Download it.
14. Horde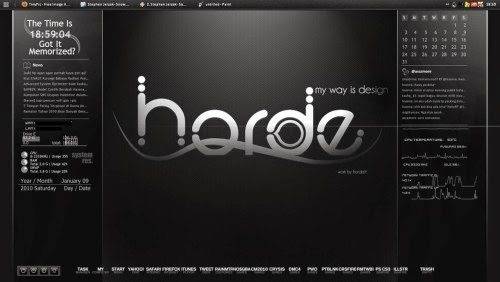 This is another rainmeter skins having dark wallpaper by horder. It consists enigma taskbar, enigma twitter, enigma reader, enigma RSS reader, enigma network and enigma address line along with circle system resources and kingdom heart memorized clocks. Download it.
15. Switchin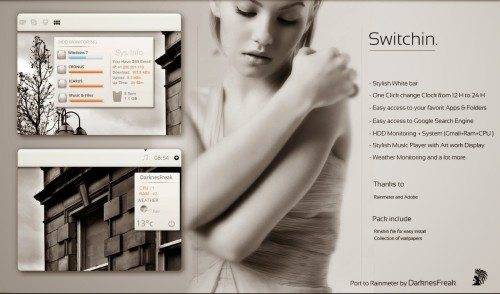 Switchin is a stylish rainmeter skin with the white bar. It has easy access to your favorite apps, folders, and Google search engine. Its specialized with one click clock change from 12 to 24 hour, weather monitoring and much more. Download it.
16. Ekar Lina Rainmeter The Skin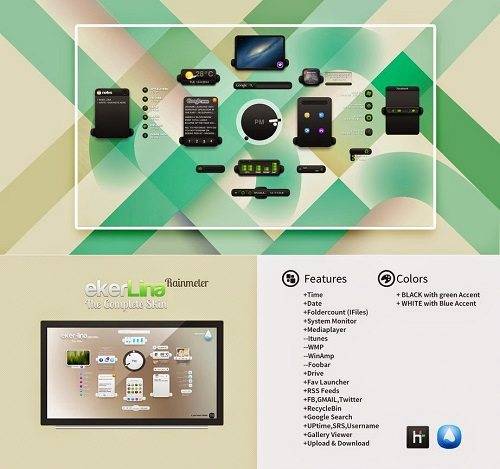 Ekar Lina is a beautiful rainmeter skin of black with green accent and white with blue accent. This is featured with time, date, folder count, media players, drive, fav launcher, Facebook, Twitter, Gmail and much more. Download it.
17. MoonGlow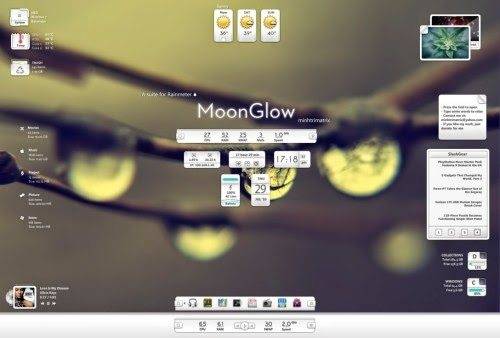 Moon on the rainmeter skin is a new skin which can measure your system temperature. This shows usage percentage of CPU, RAM, SWAP, Gmail messages. It is available in two versions x86 & x64. Download it.
18. Before Dawn RM Bar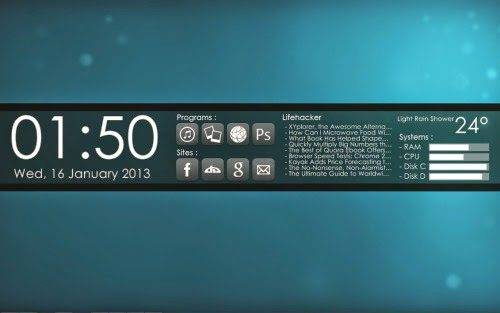 Before Dawn RM Bar spans a neat banner across the window with some basic info's on system resources, with current date and weather conditions, anas well as RSS feed and quick access to most used site and apps. Download it.
19. Morph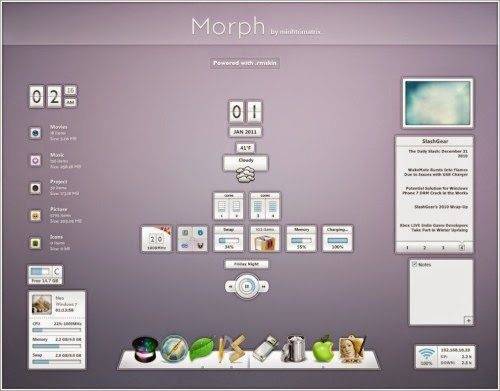 Morph is simply amazing rainmeter skin that makes the appearance of your desktop beautiful. Download it.
20. Razor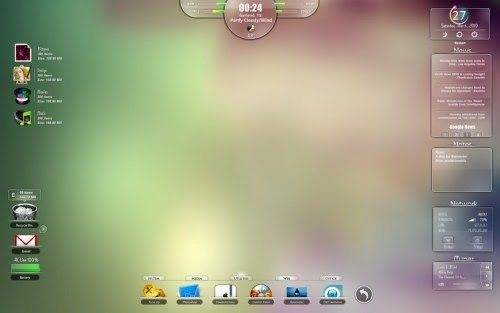 Razor is a slick, modern theme the keeps you organized at a glance. Download it.
21. Orange Glow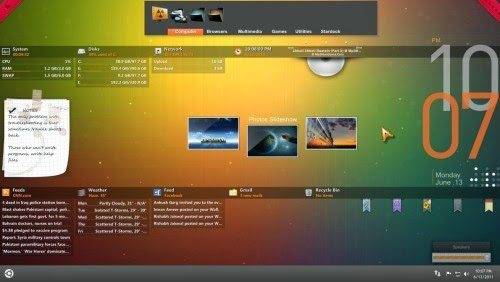 Orange Glow rainmeter skin is a pretty good with significant appearance highlighted with orange color. It includes icon packages, window displays, clock, date, CD art display, weather and many more. Download it.
22. Raleway Skin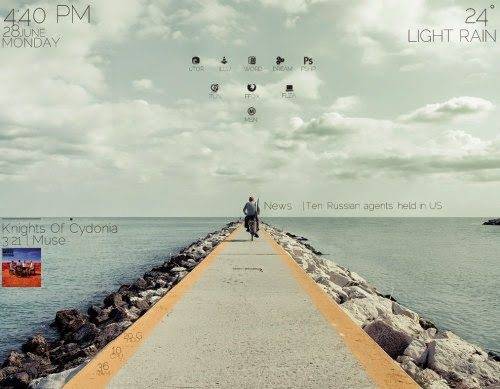 In this, all the variables are stored in one file in variables folder and color or font can be easily changed at once. It also displays album art. Download it.
23. Elegance 2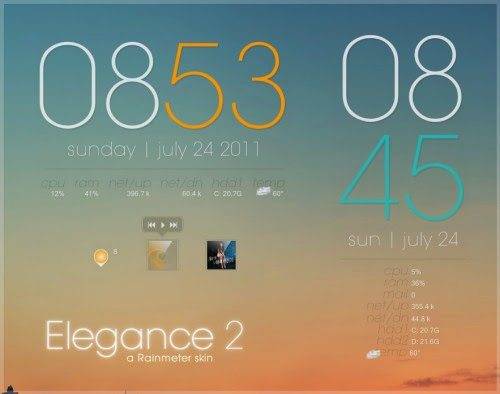 Elegance 2 is more elaborate and polished version on elegance. This includes color changer and configuration tools for easy customization and setup. The color changer alters accent colors with one click. Download it.
24. SimpleDOCK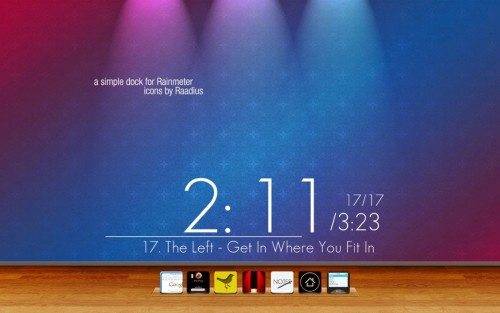 Simple DOCK for rainmeter is very useful skin and its concept is simple and amazing. The great thing about this skin is that you can easily change DOCK and icons. Download it.
25. Meteor Glimps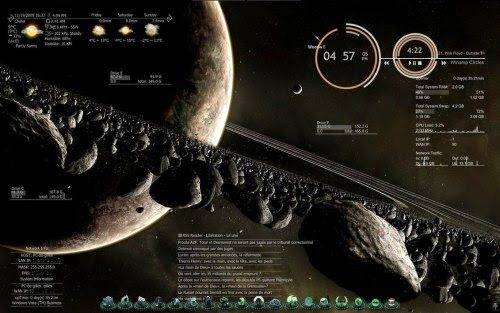 Meteor Glimps is an amazing rainmeter skin with Winamp circles, digital circles, a flying saucer to switch off, rocket docks sublimes icons. Download it.
26. Enigma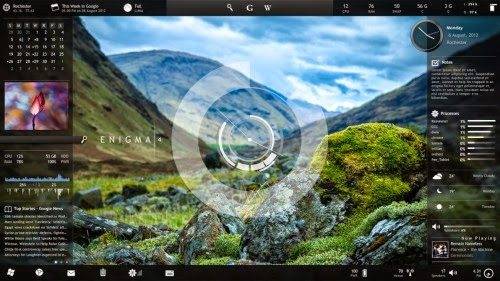 Enigma is a neutral, minimalist design which goes well with variety of wallpapers, themes, and color schemes. It's a library of different desktop gadgets which can be arranged and customized in the way you want. Download it.
27. Speed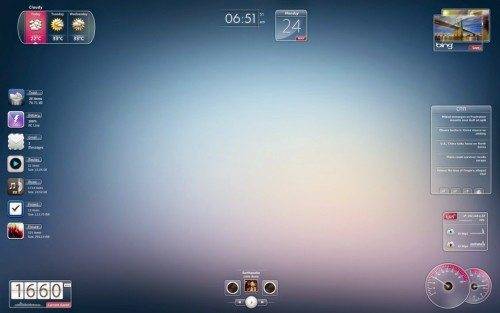 Speed rainmeter skin is just simple and beautiful. It holds WiFi statics, clock, speed, messages and many more. Download it.
28. Futuristic Cityscape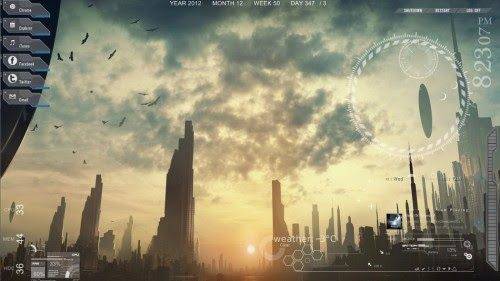 This a different type of rainmeter in appearance, it looks like reality on screen. It also includes explorers, Facebook, Gmail, Twitter, Shut down, Log off, Restart buttons also. Download it.
29. Big Digital Clock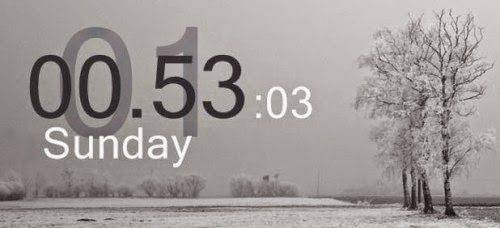 This is a digital clock using the ISO 8601 having standard minutes and seconds. It also features weekdays and no. of weeks. It is also possible to get no. of days in a week in this skin. Download it.
30. Vcloud Weather 2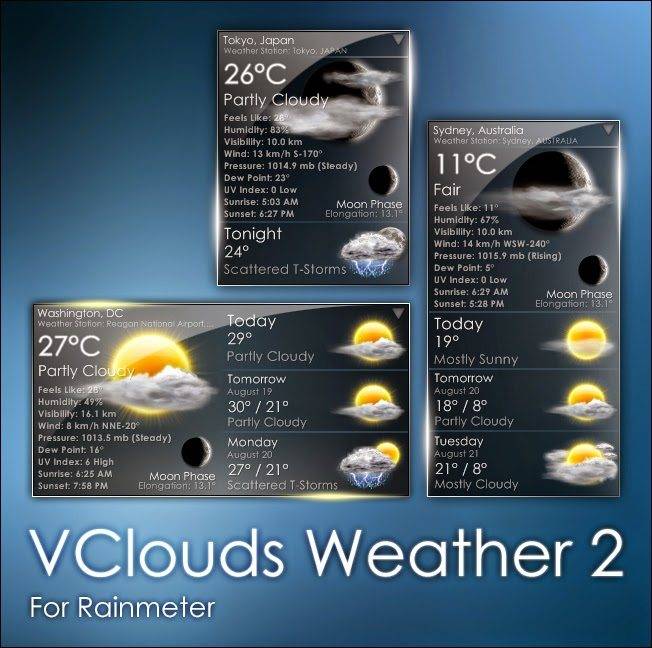 For this skin, it is important to have rainmeter v3.0 or higher. The specialty of this skin is, it is available in 17 languages with semi-transparent background. It includes 12 vertical and 3 horizontal variations. Download it.
31. LIM!T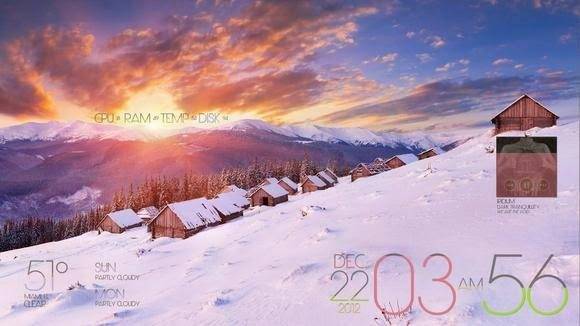 It is a very simple skin suit in which texts fills up as its values grow up. The present weather condition is shown in texts and is filled by 3 bars. ItusesCore Temp for CPU temperature reading. Download it.
32. Start Menu for Rainmeter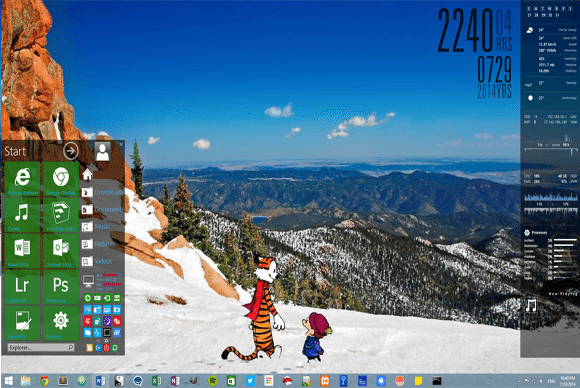 This rainmeter is designed for start menu especially of Windows 8.It runs perfectly on the other rainmeter also. Download it.
33. Sunset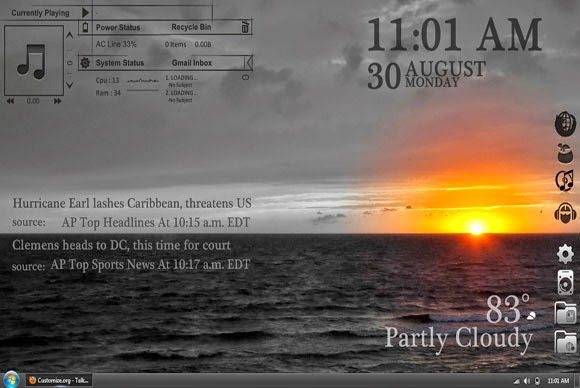 It is an option skin with an app launcher, clock, calendar, Facebook RSS reader, recycles manager, Taskbar, Gmail etc. Download it.
34. Avenger SHIELD OS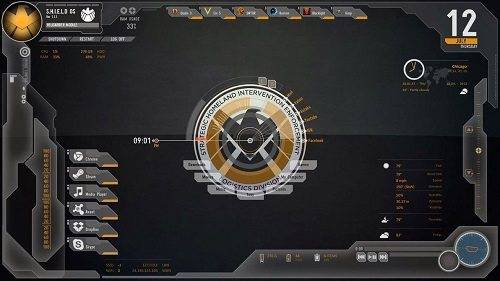 Avenger SHIEL OS is a special rainmeter skin in which different wallpapers can be used. In this you can change personal icon image and LLET/SLT names. Download it.
35. Electric Space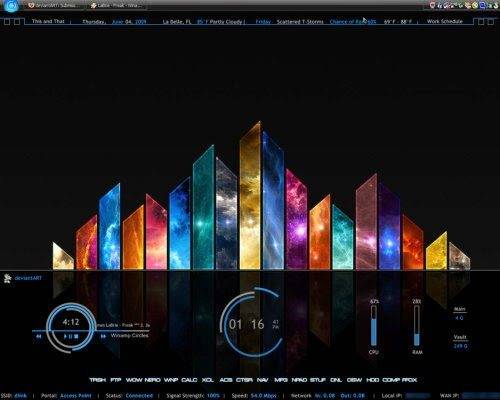 Electric Space rainmeter is somewhere specified by its name only, its appearance is slightly like something in space. It includes date, weather, wireless info, network and IP info. Download it.
36. Eye of Sauron Rainmeter Skin
If you're a Lord of the Rings fan, you won't want to miss this one! The eye of Sauron follows your mouse wherever it goes. Download it.
37. Wisp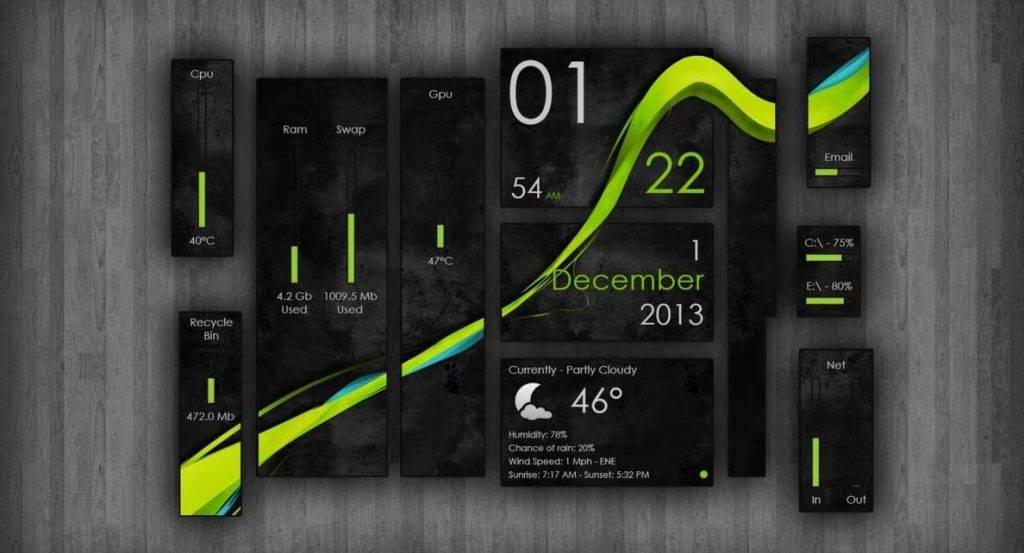 Wisp is a beautiful, sleek system monitor skin. Download it.
Используемые источники:
https://rainmeterui.com/rainmeter-skins/
https://www.whatswithtech.com/best-rainmeter-skins-themes/