Microsoft announced that the Windows 10 free upgrade offer would end on December 31.
As a quick reminder, the Redmond giant initially introduced this loophole to allow assistive technology users to install the latest Windows 10 version for free.
Later on it was proved that all Windows users could take advantage of this loophole to upgrade to Windows 10 at no cost.
Of course, some said that Microsoft had been aware of this fact from the very beginning and used it as an incentive to convince more users to install the latest Windows 10 version.
But what happens in 2020? Is the free upgrade offer really over?
Can I still upgrade to Windows 10 for free in 2020?
The short answer is No. Windows users can still upgrade to Windows 10 without shelling out $119. The assistive technologies upgrade page still exist and is fully functional.
However, there's a catch: Microsoft initially said that the offer would expire on January 16, 2018.
If you use assistive technologies, you can upgrade to Windows 10 at no cost as Microsoft continues our efforts to improve the Windows 10 experience for people who use these technologies. Please take advantage of this offer before it expires on January 16, 2018.
But somehow we don't believe that's true. The free upgrade offer first expired on July 29, 2016 then at the end of December 2017, then on January 16, 2018. But somehow that happened only in theory. In practice, the upgrade has always been free or charge.
Windows 10 upgrade doesn't take place? Force it with this step-by-step guide and enjoy the new features.
Place your bets
We're pretty sure that Microsoft will support this free upgrade offer for years to come. The company made it clear that it wants as many users as possible to jump on the Windows 10 boat.
However, making them pay $119 to install the latest Windows 10 OS is not the best strategy to adopt.
Allowing this free upgrade loophole to exist increases the chances that more users will agree to upgrade — and Microsoft is aware of that.
DownloadWindows 10 Home Single Language

Install Windows 10 Home Single Language on your PC — the perfect solution if you don't need multiple language packs.

Download Windows 10 Home Single Language
Try activating Windows 10 using Windows 8.1 or Windows 7 key
Some users claim that you're still able to upgrade to Windows 10, as long as you have Windows 7 or Windows 8.1 running on your PC. Bear in mind that you'll need to run a genuine copy on your PC in order for this process to work.
In addition to the genuine copy of Windows, it's also a good idea to have your product key available since you might need it to activate Windows 10.
If you don't have the original Windows DVD with the product key available, you can get the product key from your PC by using NirSoft's ProduKey software.
Most Windows users don't know how to find their product key. Be a step ahead and learn how to find yours right now.
Once you obtain your key, write it down and keep it safe because you might need it later. After that's done, your next step would be to back up your files just in case anything goes wrong.
If you can, create a hard disk image and use it to restore your system in case things go south. If you want things to go smoothly, we've got for you a list of back up software that will get the job done easily.
After creating your backup and obtaining your product key, you can start upgrading to Windows 10. This is fairly simple, and you can do that by following these steps:
Download and run

Media Creation Tool

. You can get this software from

Microsoft's website

.
Accept the terms of service and select Upgrade this PC now option.
You'll be asked to download the important updates. Usually, it's advised to download them, but if you're in a hurry you can choose Not right now
Windows will now configure your PC and get the necessary updates.
Follow the instructions on the screen until you reach the Ready to install screen. Click Change what to keep
Now you can choose between three options. We suggest to use Keep personal files and apps option, but you can also select Nothing if you want to completely remove the previous Windows installation.
Now follow the instructions on the screen to complete the upgrade process.
After doing that, you should have Windows 10 up and running. To make sure that everything is in order, check if your Windows installation is activated. If not, use your Windows 8.1 or 7 serial number to activate it.
If you're having trouble accessing the Media Creation Tool, take a look here and solve the problem with a few easy steps.
Alternatively, you can create an installation media and use it instead. To do that, follow these steps:
Start Windows Media Creation
Select Create installation media (USB flash drive, DVD, or ISO file) for another PC and click Next.
Make sure that Use the recommended options for this PC option is selected. If you want to manually configure language, edition, and architecture, you can uncheck it. Click Next to proceed.
Make sure that your USB flash drive is connected to your PC. Select the drive from the list and click Next.
The process will now start.
Can't create a Windows installation media? Don't worry, we've got you covered.
Once the process is finished, you can boot from the USB flash drive and try to install Windows again. Be sure to use your Windows 7 or 8.1 key during the installation process.
After the install, if you can't change your product key be sure to check this guide to find some easy solutions for your problem.
Many users claim that this method works, so before you try to upgrade to Windows 10, be sure that you have a genuine copy of Windows 7 or 8.1 installed and your Windows 7 or 8.1 product key available.
Best priceWindows 10 License Key

You can get now Windows 10 License Key from our trusted retailer at the best prices (huge discounts). Click the buttons below to choose your Windows 10 version.

Windows 10 Home KeyWindows 10 Pro Key
So, what's your take on this matter? Do you think Microsoft will ever end this free upgrade loophole? Let us know in the comments below.
Windows 7 end support
Microsoft will end mainstream Windows 7 support on January 14, 2020. Long story short, you've got all the reasons in the world to switch to Windows 10. However, OS upgrade processes are never easy. We covered the upgrade topic extensively, in order to help you transition from Windows 7 to Windows 10 as smoothly as possible.
Check out the guides below, put them into practice and enjoy your upgrade:
Editor's Note: This post was originally published in January 2018 and has been since revamped and updated for freshness, accuracy, and comprehensiveness.
With support for Windows 7 ending Tuesday, Microsoft is encouraging users to upgrade to Windows 10 to keep devices running securely and smoothly. On Microsoft's website, the Windows 10 Home operating system costs $139 to download. However, you don't necessarily have to shell out the cash: A free upgrade offer from Microsoft that technically ended in 2016 still works. 
When Windows 10 was first released in July 2015, Microsoft offered an unprecedented free upgrade offer for Windows 7, 8 and 8.1 users, good through July 2016. But in 2017, Ed Bott of CNET sister site ZDNet reported that the free upgrade tool was still functional. I tried it out in November 2019, and was able to upgrade a 2014 Dell OptiPlex 9020 desktop from Windows 7 Pro to Windows 10 Pro. As of January 2020, readers are still emailing me and commenting below, saying that it's worked for them as well.
Read more: 11 easy Windows 10 tricks you didn't know about 
Windows 7 users who don't upgrade to the new version will no longer be able to get Microsoft's security updates or fixes, or technical support for any issues, leaving your computer at greater risk from viruses and malware. While Windows 10 users have experienced a number of bugs over the years, upgrading remains the best option for keeping your computer safe, analysts say. 
Here's how to get Windows 10 for free, if you're currently running a licensed and activated copy of Windows 7, Windows 8 or Windows 8.1 Home or Pro: 
1. Go to the Download Windows 10 website. 
2. Under Create Windows 10 installation media, click Download tool now and Run. 
3. Choose Upgrade this PC now, assuming this is the only PC you're upgrading. (If you're upgrading a different machine, choose Create installation media for another PC, and save the installation files.)
4. Follow the prompts. 
5. When the upgrade is complete, go to Settings Update & Security > Activation, and you should see a digital license for Windows 10. 
It should be noted that if you have a Windows 7 or 8 Home license, you can only update to Windows 10 Home, while Windows 7 or 8 Pro can only be updated to Windows 10 Pro (the upgrade is not available for Windows Enterprise. Other users may experience blocks as well, depending on your machine). This upgrade using the media creation tool isn't meant for the general consumer, but it works for many nonetheless. 
To get the best Windows 10 experience and take advantage of features like passwordless sign-on through Windows Hello, you'll want to purchase a new Windows 10 PC (or one released after July 2015) with all the hardware upgrades. If you're a student or university faculty member, you may also be able to download Windows 10 for free (search for your school's software offerings here). 
For more, check out Six security changes all Windows 10 users need to make and Windows 10 update: Everything you need to know.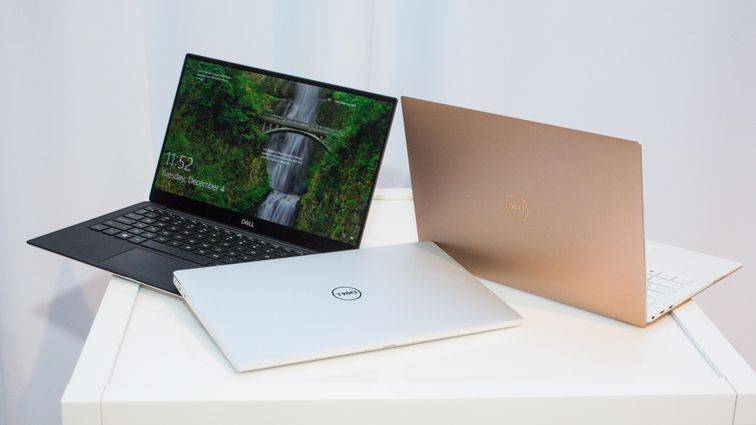 MacBook Air, Yoga C930, XPS 13: Best laptops and desktops for the holidays 2019
Originally published earlier this month.
From late night homework dates with Microsoft Word or to the legendary Internet Explorer which was so slow that by the time you took a shower and have your breakfast, it will still be loading.
That being said Microsoft's Windows has come a long way and Windows 10 brings a lot of new changes and upgrades that combines both of the best features of Microsoft Windows 7 and 8.
In this not-so-little guide, I'll guide you step-by-step on ways on how you can get Windows 10 for free and hopefully get it up and running as soon as possible. 🙂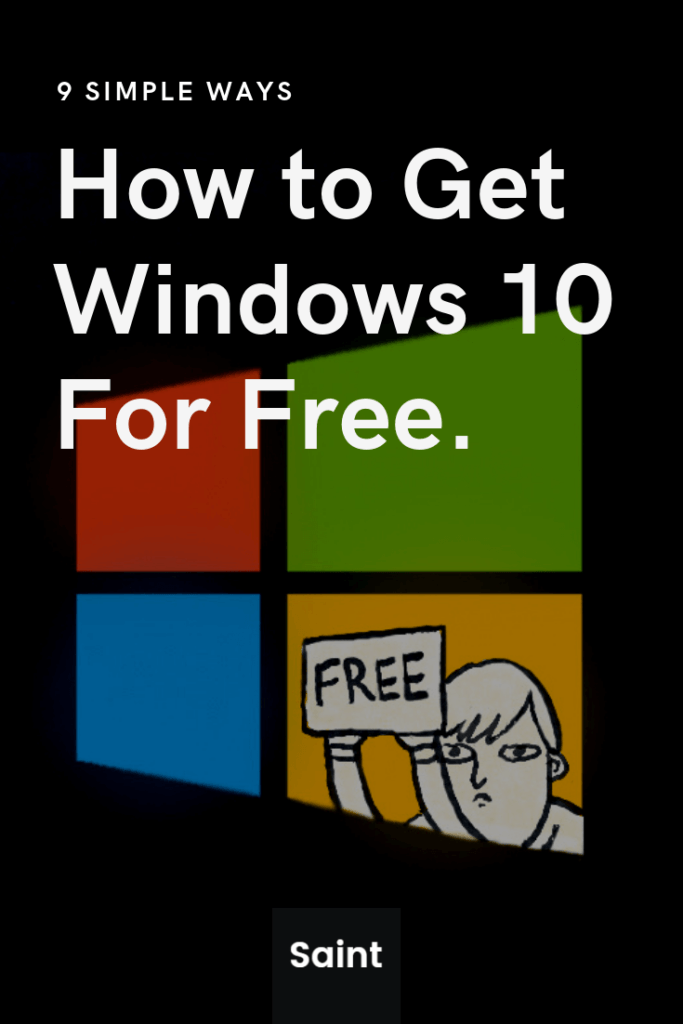 How to Get Windows 10 for Free: 9 Ways
1.  Upgrade to Windows 10 from the Accessibility Page
Here's how you can upgrade to Windows 10 from the Accessibility Page:
Step 1:  Jump into Microsoft's Accessibility Page where you'll be directed to the Windows 10 free upgrade for customers who use assistive technologies page.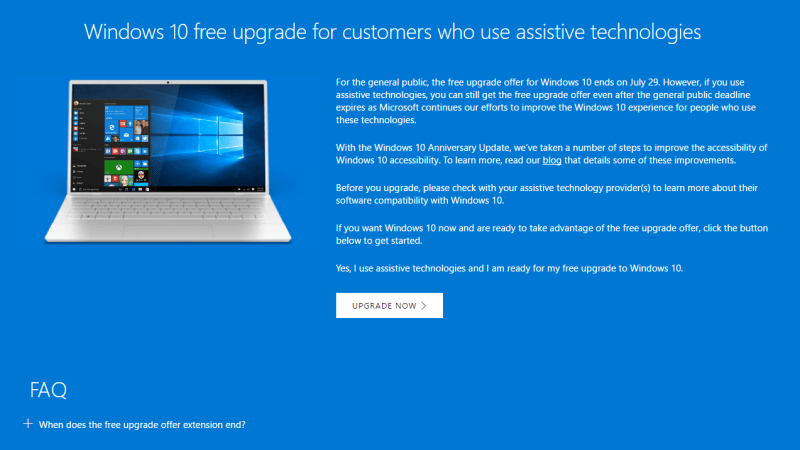 Step 2:  Click the Upgrade Now button to get started. (The page will download the Windows 10 Upgrade Assistant program)

Step 3:  Run the program, and then you'll be brought to the license agreement page before continuing.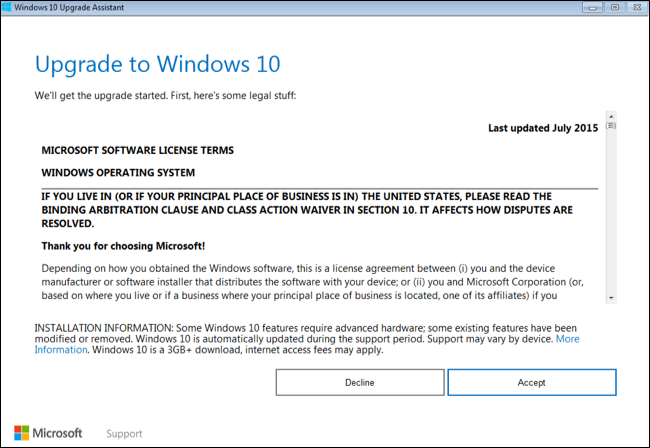 Step 4:  Once the upgrade is complete, you'll have your Windows 10.
You do not need to worry about Microsoft charging you later on, as they don't really spend all their time checking and spying on you whether you are really disabled or not.
Since this offer is for people using assistive technologies you'll find that there will be additional tools such as
a magnifier to see the screen better
a narrator to read text aloud
keyboard shortcuts
an on-screen keyboard
If you follow this method, you will also get a "digital license" that is valid for the life of the device you are using.
This means, even if you were to uninstall Windows 10 or if it were to crash at some point, you can always reinstall it and continue using Windows 10 in the future for free.
2.  Provide a Windows 7, 8, or 8.1 Key
NirSoft's Produkey is the easiest way to find your Windows product key if you don't know where it is.
All you have to do is just download it, unzip it, and then run it. After that, you can immediately see all of your product keys.
It's as simple as that.
(NirSoft's Produkey is a quality tool and crapware-free, however, do note that the only issue that it has is that some antivirus will detect it as a false positive because there are some malware out there that might try to steal your product key)
Download NirSoft's Produkey here.
How to upgrade using your Windows Key.
Before you proceed with this method, it is best if you have activated your Windows 7/8/8.1 first (by entering the product key) and then re-run this installation process for Windows 10. This way, you won't be asked to enter the product key during the Windows 10 installation process.
If you do, however, find yourself being prompted to enter a product license key when you boot from the Windows 10 setup installation media, click the option I don't have a product key.
Whereas if you are downloading Windows 10 out of the box, then when prompted for the product key, Click Do this Later. Complete the installation and then you will have your own Windows 10.
Here's how you can upgrade to Windows 10 after activating your Windows 7/8/8.1 key
Step 1:  Go to Download the Windows 10 media creation tool from Microsoft and Click Download tool now.

Step 2:  Once downloaded, run the tool.
Step 3:  Next, chooseth Upgrade this PC now option and follow the on-screen instructions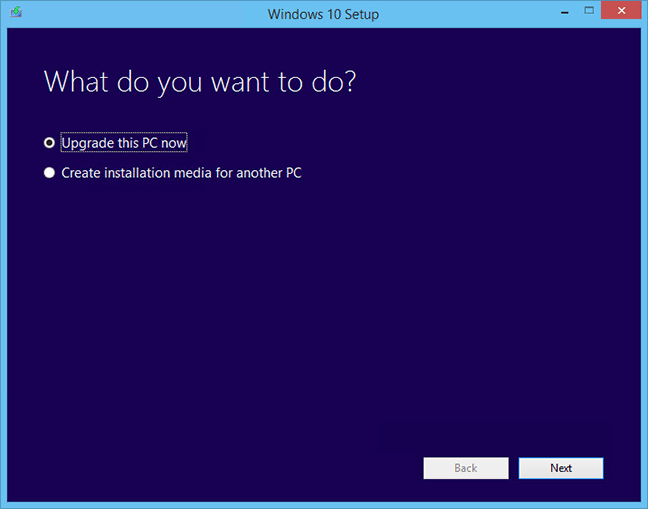 Step 4:  Once done, you will be given a product key for Windows 10.
Step 5:  You can always check on your digital license or if you are still having problems entering your product key then you can click Start>Settings (press Windows key + i) >Update & security>Activation then click Change product key
Things to know
The version of Windows 10 you will get depends entirely on which version of Windows 7/8/8.1 you upgraded from.
If you are upgrading from Windows 7 Starter, Home Basic, Home Premium, Windows 8.0 Core, Windows 8.1 Core, then this will install Windows 10 Home.
If you are upgrading from Windows 7 Professional, Windows 7 Ultimate, Windows 8.0 Pro, Windows 8.1 Pro, then this will install Windows 10 Pro
Another thing you should know is that, if you were to ever sign in into your new PC with your Microsoft account, remember that the product license key will always be associated with your Microsoft account. This makes it easy to reactivate your digital license if you ever need to reinstall Windows 10 later.
When your PC acquires a "digital license", you can continue using it and reinstall Windows 10 on it anytime in the future. Even if Microsoft does block this trick in the future, your PC will keep its digital license and Windows 10 will remain activated.
3.  Reinstall Windows 10 if You've Already Upgraded
You can get Windows 10 for free if you've already taken advantage of any free upgrade offer.
That includes if you have either went through with the original free upgrade offer during the first year, the accessibility offered, or by installing Windows 10 and providing a key for an eligible previous version of Windows.
If you did any of that, you can continue to get Windows 10 for free on the same hardware.
Here's how you can reinstall Windows 10 if you've already upgraded to it before
Step 1:  Download the Windows 10 installation media and install it on your computer.
Step 2:  Don't provide any key during the installation process. (Just press 'skip' or 'do this later')
Step 3:  Your Windows 10 will automatically activate after it contacts with Microsoft's servers. It can take a while before it gets activated.
4.  Download Windows 10 ISO File
You can use the same ISO to install on any number of computers but you would need a separate license for each.
This method is ideal if you have many computers' lying around since all you've got to do is download an ISO file and upgrade each computer you want to get Windows 10.
Here's how you can download the Windows 10 ISO File
Step 1: Head over to the Windows 10 Download page and Click Download tool now and run it.

Step 2: Select Create installation media for another PC, and then click Next. Here you will be asked how do you want your installation should come in.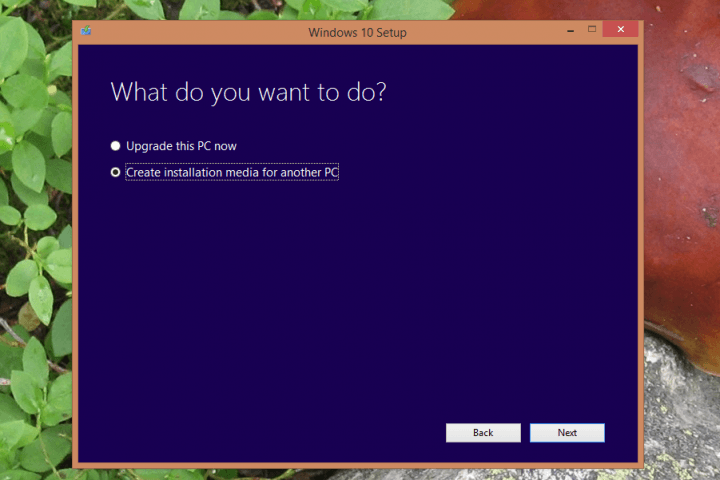 Step 3: Select ISO file, then click Next. You will be asked where to save the ISO file.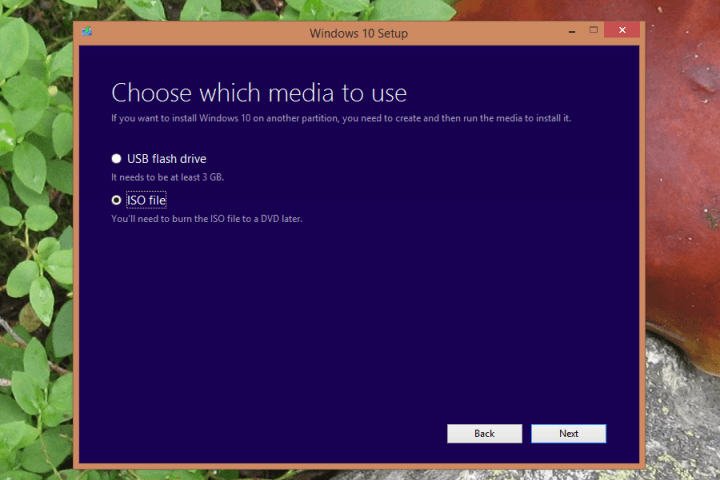 Step 4: Once the download is complete, you will have the ISO file on your computer's hard drive.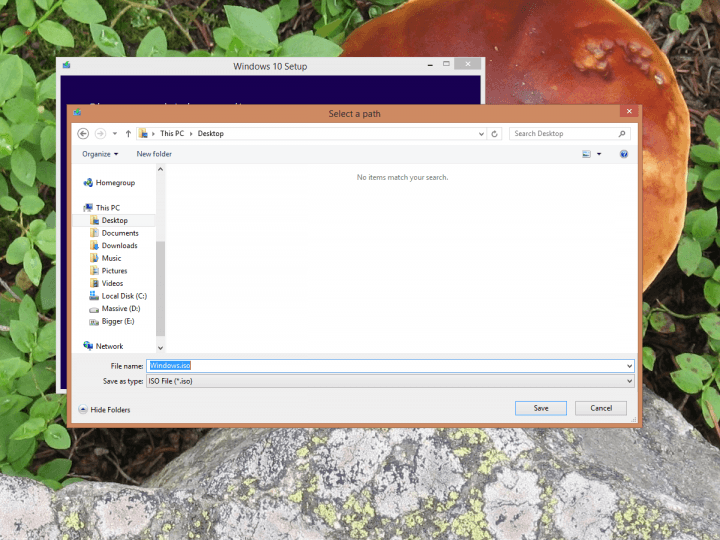 Here's how you can follow up by upgrading to Windows 10 using the ISO file you just downloaded (it's pretty easy)
Step 1:  Browse the folder where you saved the Windows 10 ISO file and right-click on it. Select Open with than Windows Explorer.
Step 2:  You will be able to see the contents of the ISO file. Click on setup (setup.exe)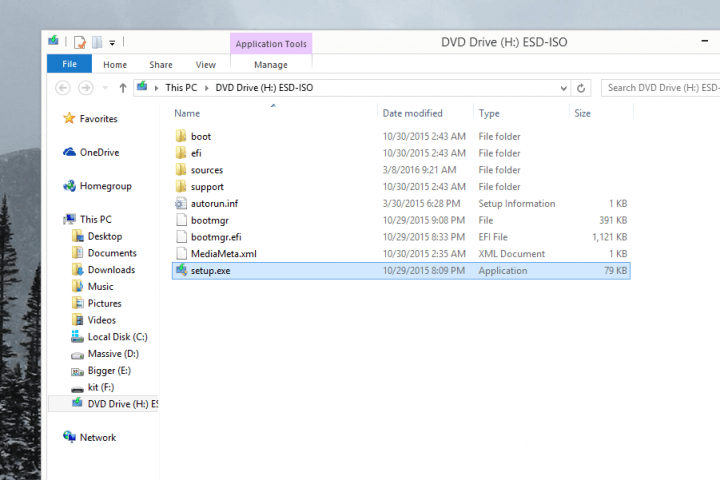 Step 3:  The setup will begin and you will be asked if you want to download updates now or later.
Step 4:  Clicking on Next will start downloading the updates.
Step 5:  Once you are all set, you will be asked to Accept the license terms. Click on Accept to proceed.
Step 6:  You will then see a 'What needs your attention' message. The setup will make sure that your PC is ready to install. If anything requires your attention, it will be highlighted here.
There are plenty of other uses for a Windows 10 ISO file.
For example, you may want to install Windows 10 on your Mac or set up Windows 10 in a virtual machine application. In either case, you would need the ISO file, as it is the preferred tool for installing Windows 10.
I am going to clarify again that the free ISO file isn't a free Windows license. It's just a more convenient way to get Windows 10 for free on any number of devices.
 5.  Skip the Key and Ignore the Activation Warnings
I'll let you on a little secret: You don't need to provide a product license key to install Windows 10.
But wait, isn't that like illegal?
Well, truth is, what you can actually do is just download Windows 10 and use it (but without the perks of a licensed edition).
Here's how.
Step 1: Download Windows 10 installation media from Microsoft
Step 2: Install it on your PC, in Boot Camp on your Mac, or in a virtual machine
Step 3: Whenever you're prompted to provide the key, just Skip it or Do it later and continue on with your Windows 10 without providing a product key.
This method is great for testing out Windows 10 and to find out what it can really do. Your Windows will continue to work and you can proceed to do whatever you want with it.
The only downside to doing this is, is that Windows will keep nagging you to activate it, but hey if you can bear your nagging girlfriend then you're all good to go.
6.  Become a Windows Insider
Now if you want to become a Windows Insider you have to first download Windows 10 (but you do not need the product key) which means you can go about it freely.
Truth is if you had become a Windows Insider right before when the Windows 10 was actually released, you would have got all the sneak peeks into the latest features before anyone else ever did.
That's not all; Microsoft even gave free Windows 10 to every Windows Insider when it came out.
You can read more on about it on here.
So if you become a Windows Insider not only can you also get the latest updates, free stuff, and upgrades, you can even gain free access and get a free copy of the next version of Windows.
Here's how you can join Microsoft's Insider Program.
Step 1:  Join the Insider program by heading to Microsoft's Windows Insider page, Click Get Started and then sign in into your Microsoft account.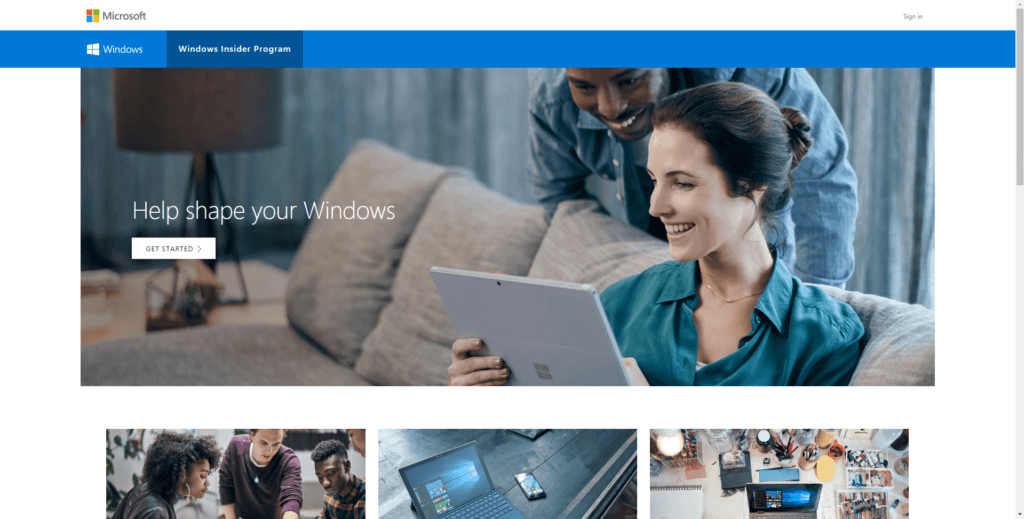 Step 2:  Read the Program Agreement, and join the program. (You don't have to select an area of interest at the bottom of the page.)
Step 3:  Go to All Settings (on Windows 10)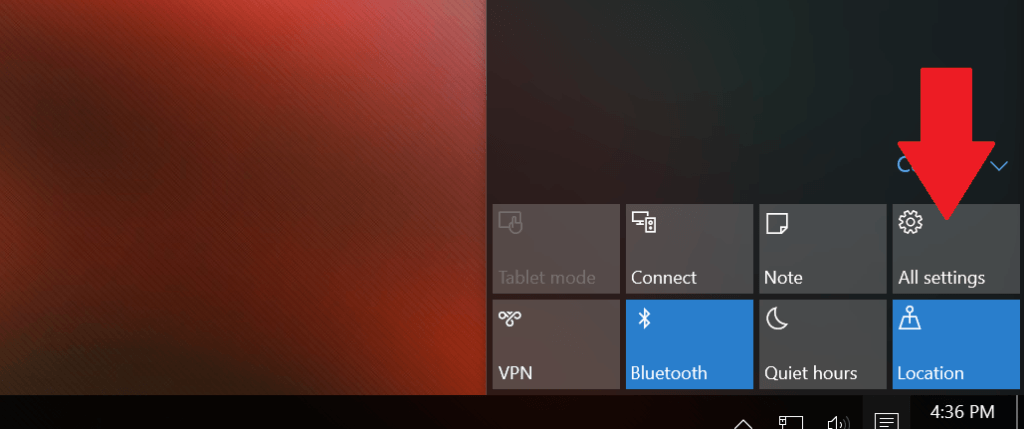 Step 4:  Select Update & Security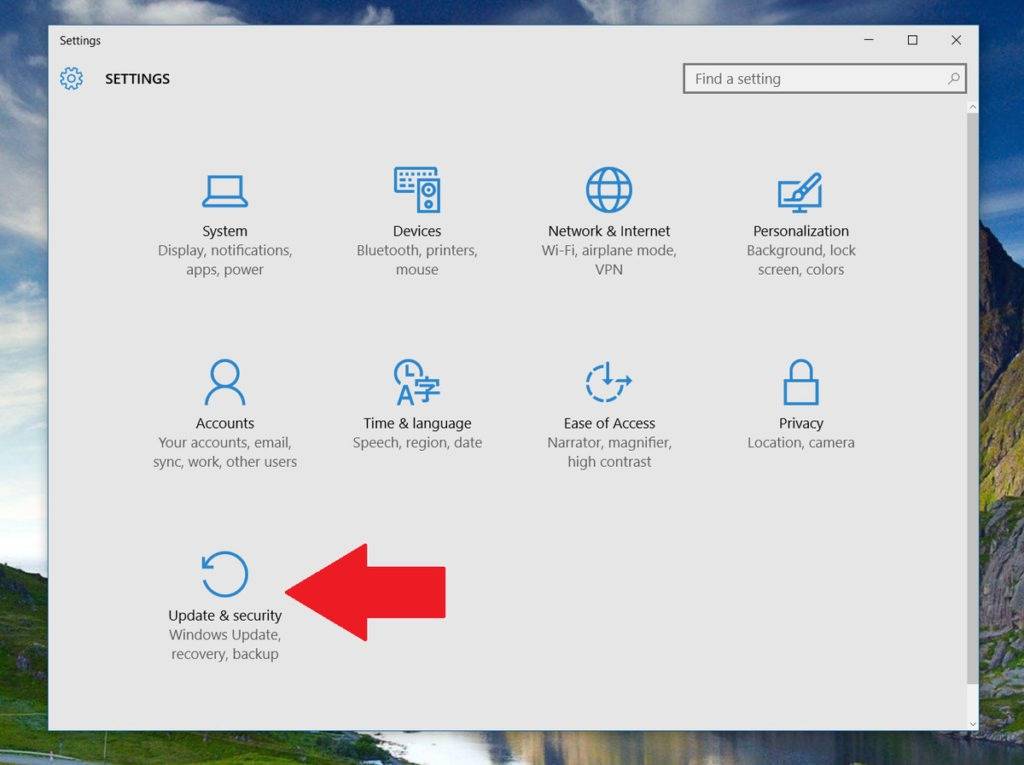 Step 5:  In the Windows Update section, Choose Advanced Options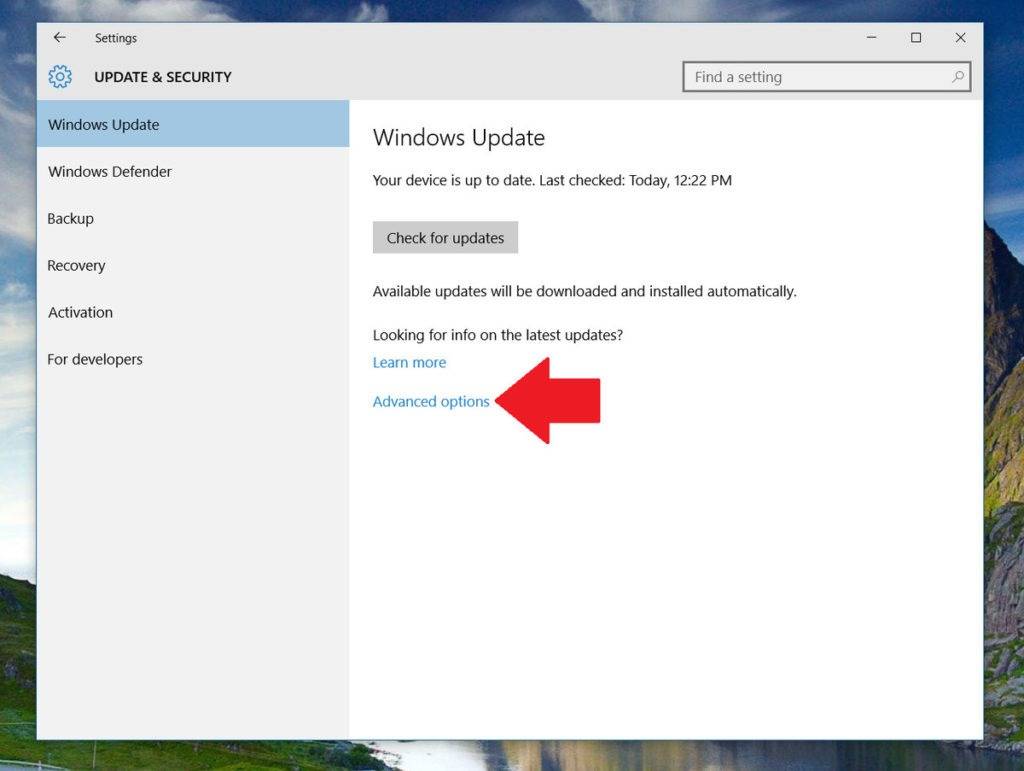 Step 6:  Under Get Insider Preview builds, Click to Get started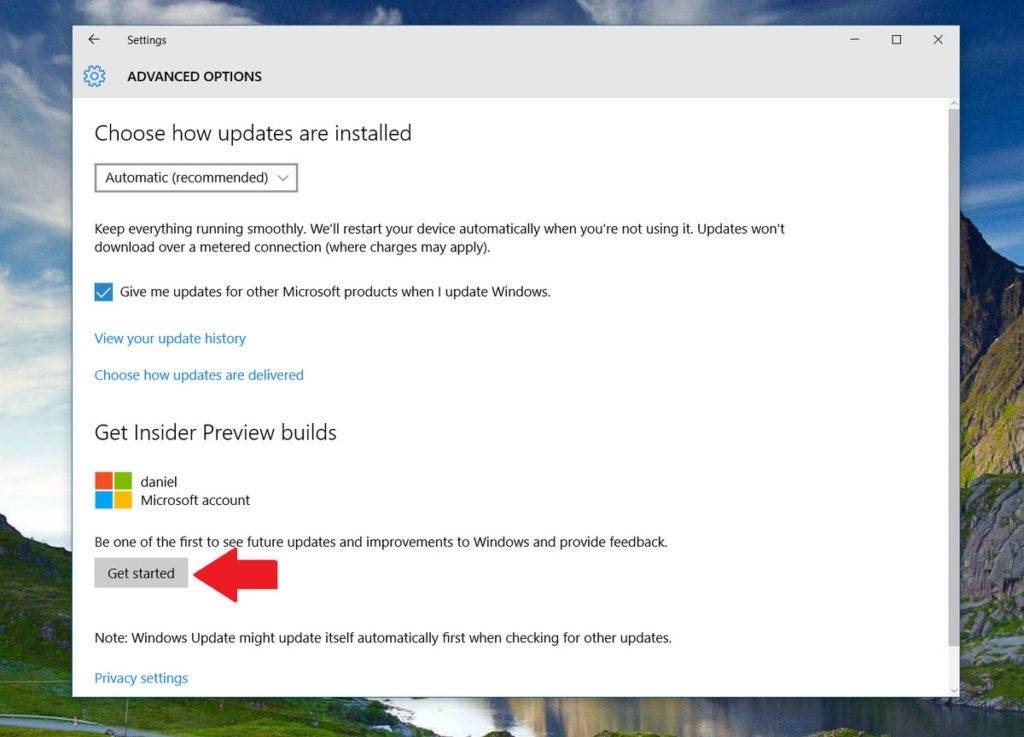 Step 7:  Hit Next on the information screen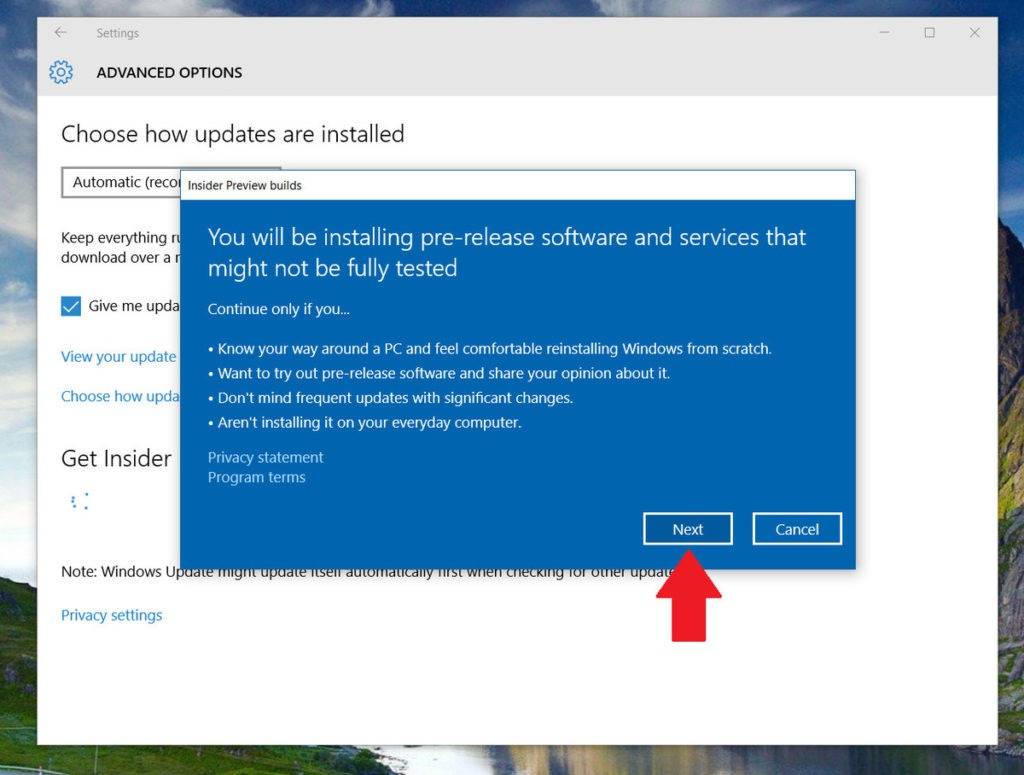 Step 6:  Hit Confirm on the warning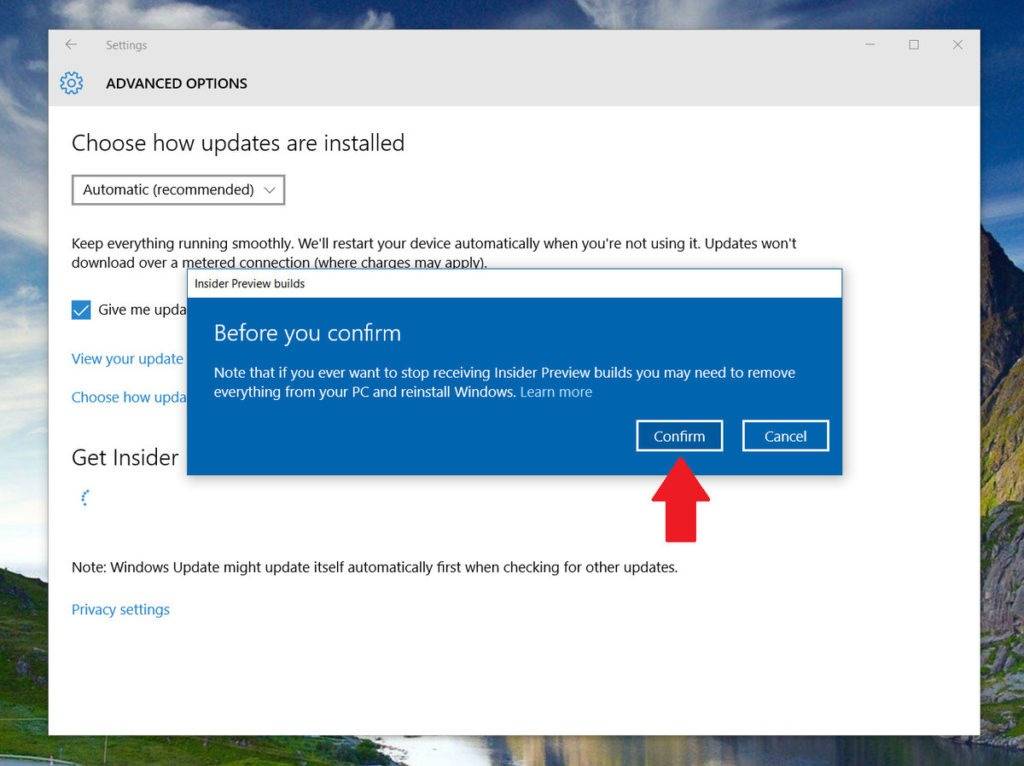 Step 7:  Select Restart now (don't worry, your PC won't install the update yet)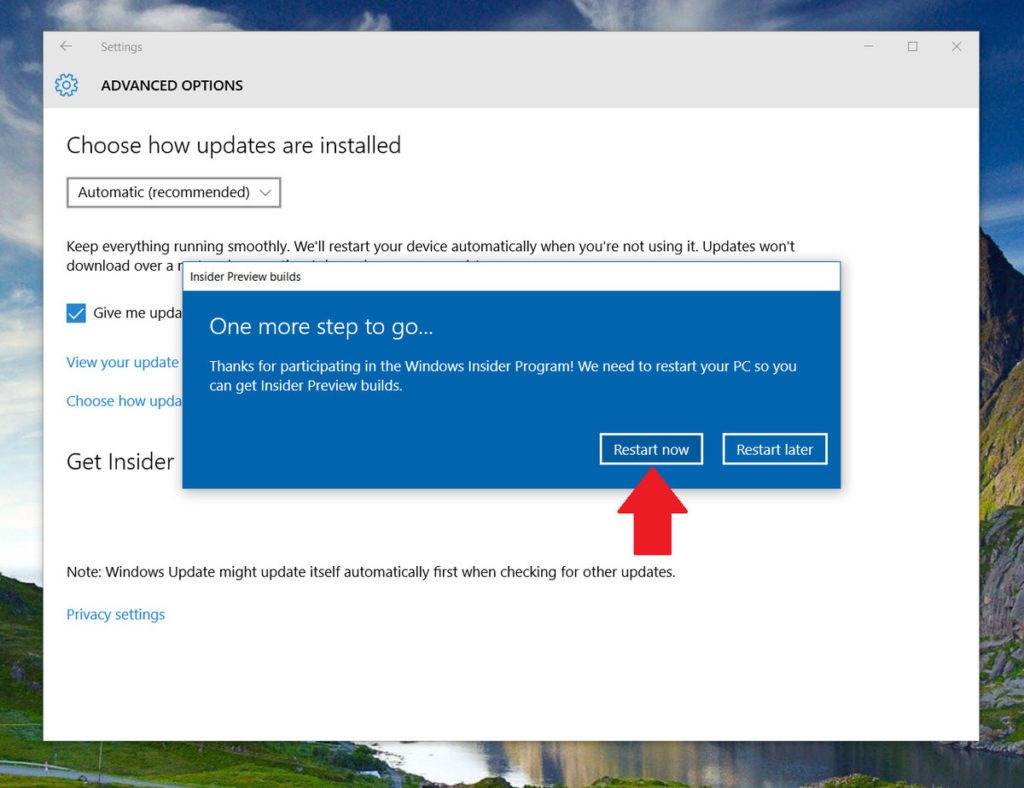 Step 8: After the PC reboots, repeat the above steps to get back to the Get Insider Preview builds area. Now you can select which Insider Ring you want to join by using the slider: Release preview, Slow, or Fast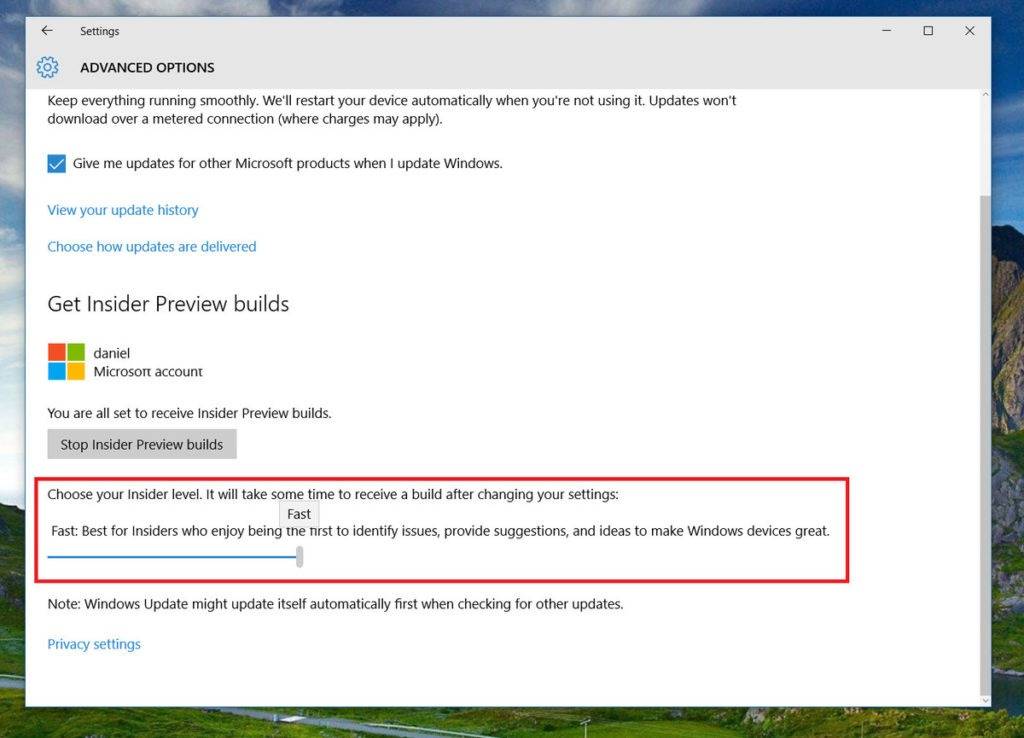 Note
After your PC reboots you could check for an OS update now. You can do this by going to Settings > Update & security > Check for updates
It can take up to 24-hours before your PC is enrolled in the Insider program. The updates will download automatically and do its thing when your PC does its regular once-a-day check.
Also, don't worry, enrolling your PC will not affect other computers you have associated with your Microsoft Account
What you need to about Insider Rings.
In short, Insider Ring is basically like a difficulty level in a video game (Amateur, Pro, and Legendary). In this case, it is the amount of risk and issues you are willing to take on, as you'll be one of the first people now who would get their hands on to test all of Microsoft's Windows latest features, updates etc.
7.  Change your Clock
This method was hyped up by the Reddit community, and they seem to apparently say that you can change your system clock back to July 28 and the upgrade will still work.
Now honestly speaking I haven't really tried this but if this is a loophole by simply changing your system's clock back to July 28th which will then re-activate the Upgrade Prompt and allow the upgrade to be started then hey, why not?
As long it is a way to get Windows 10 for free, you might as well try, right?
And besides, there is always that fun of exploration.
You can follow the Reddit guys here at:
You can simply turn back your system clock and upgrade to Windows 10 again
8.  A Pirated Upgrade
Is the Windows 10 upgrade really free for pirated users?
The Windows 10 upgrade is free even for pirated users but for now, there is no hack to go about to get Windows 10 for free by getting a free product key.
You can follow and be updated by the Reddit guys and join the other pirates there
Can you still get windows 10 for free when you use a cracked Windows 7/8/8.1?

I pirated windows 8.1, but it shows as activated. Does this mean that if I upgrade to Windows 10, it will be genuine?
If you are using a Pirated/Non-genuine Windows 7, 8, or 8.1 you can upgrade from your pirated Windows to Windows 10 (without the license key of course) by clicking here.
9. Get a Job at Microsoft
You may read up on Eric Zheng, a former employee at Microsoft for 13 years, and how he got around by getting free upgrades and software by working at Microsoft.
Eric Zheng's answer on Do Microsoft employees get free Microsoft software?
Share this guide with anyone who's trying to get Windows 10 for free. 
Используемые источники:
https://windowsreport.com/windows-10-free-upgrade-2018/
https://www.cnet.com/how-to/upgrade-to-windows-10-free-heres-how/
https://www.saintlad.com/get-windows-10-for-free/